Aseptic Sampling Valve
---
Sanitary Aseptic Sampling Valve
Sanitary Aseptic Sampling Valve

---
Valve design points:

◆All the valve without dead corner design;
◆All the valve with PTFE diaphragm, ensure clean liquid;
◆The valve is arranged inside the taper, after sampling the liquid completely discharged, no residue;
Use:
Mainly applied to liquid sampling of following fields including:
◆Medical industry and biotechnology;
◆Beer brewing or beverage industry;
◆Milk making and food industry;
Working principle:

Sampling valve is designed for food, pharmaceutical andbiotechnology industries, each time before and after sampling for disinfection, the body and the connecting piece is made of a single piece of material, S0 as to avoid the occurrence of cracks and welding holes.
Closed valve: disinfection
When the valve is closed, open the valve port of this channel for disinfection, if the use of steam disinfection, it is recommended to use
a small pressure relief valve on the outlet (optional).
Open valve: sampling

When the valve is opened, the valve stem and diaphragm seal will
shrink, allowing the liquid to pass through. Sterile sampling may be
carried aut by using a standard attachment. These accessories are
designed to ensure that the conditions are suitable for disinfection
Thermal insulation material to avoid bums.

Body connection: SAME tank flange, welding, fast loading
Material: Body: 316L valve cover: 304 diaphragm: PTFE
Pressure: maximum working pressure (10bar)
Temperature: temperature range: 1
℃
-1 50
℃
dry steam (2bar): 125
℃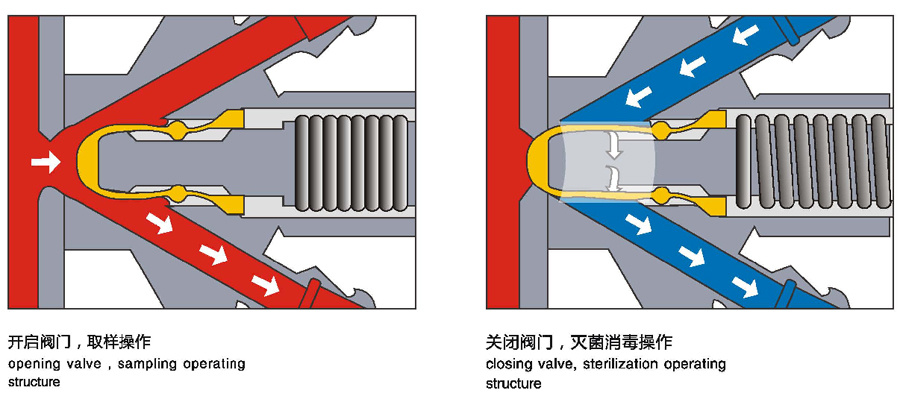 Sampling:
After the sampling is completed, the valve is closed;
Steam cleaning valve. Please see "sterilizatian"
Sterilization:
1. Connect the steam hose to the upper part of the valve;
2. Open the steam source, so that it flows through the valve to carry out sterilization. Lasts for 1 minutes at 121;
3. Close the steam source;
4. Remove the steam hose, a sterile rubber plug or sterle mask mounted to the upper connecting pipe.